HAVE YOU HAD ENOUGH OF SUFFERING?
Take back control of your life
Is this situation familiar to you?
You are living with a person who makes you suffer and you don't seem to have the strength to leave.
You are involved in a breakup (your decision or your partner's) and behaving like a martyr.
You would like to leave a relationship but are unsure of how to proceed.
You feel lonely; are convinced a healthy relationship is not in your future.
You are fed up with relationships because they just make you suffer.
You have unhealed childhood traumas causing chronic dissatisfaction in your life.
You would like to improve your professional situation.
You are continuously searching for happiness and feel like you are living your life on the sidelines.
You would like to develop your confidence and self-esteem.
You would like to resolve your co-dependency issues.

Who is Pascale Piquet?
Pascale Piquet is an expert in co-dependency thanks to having lived and conquered it herself!
Descent into hell
When pregnant with her first child, Pascale was betrayed by her unfaithful and abusive husband while also being harassed by his ex-spouse and his mistress. Living in a domestically violent situation, Pascale was finally pushed to the edge and assaulted her husband.  Following her divorce, she moved to Quebec in 2001 with her seven-year-old daughter and a second spouse who was 15 years her junior. He was an even worse choice than her first husband and her descent into hell continued.  The situation finally exploded when her second husband was escorted from the family home. He was handcuffed and led away by two policemen following a physical fight that broke out between the couple. Pascale suddenly found herself alone in a foreign country, facing job loss, a mountain of debt and suffering from generalised anxiety. Without family or friends for support, she turned to alcohol to manage her unrelenting angst. It felt like she was dying, her life destroyed, her confidence and self-esteem completely ruined.
Rebuilding a life
Pascale went back to school and obtained a post-masters degree in NLP (Neuro-Linguistic Programming). Having regained her confidence and self-esteem, she rebuilt her life and wrote Le Syndrome de Tarzan (The Tarzan Syndrome) which became a best seller in the French market. Mixing humour with an authentic voice, the book recounts the emotional traps she had repeatedly fallen into throughout her life. It also shines the light on the problem she had been dealing with since childhood: co-dependency. This state is characterized by a lack of confidence and self-esteem that creates a variety of challenges in one's life and paves the way for unfulfilling and emotionally draining relationships. Pascale decided to specialize in what she knew best. Through her kind, direct approach, she is able to pinpoint why her clients may continue to fall into negative behaviours, and most importantly, how they can liberate themselves from these destructive patterns.
Today
Through her studies and her own life lessons, Pascale has been able to guide hundreds of clients and thousands of readers over the past 10 years, towards their own happiness. She shares her knowledge through live conferences, radio and TV appearances as well as through her books and columns. Now in an intimate and fulfilling relationship, Pascale is the perfect coach for those who are trying to let go of their emotional co-dependence.  Having conquered the condition without any outside help, Pascale firmly believes that her support as a coach is an excellent tool in aiding her clients in achieving their goals!
In Le syndrome de Tarzan (The Tarzan Syndrome), Pascale discusses co-dependency and introduces the reader to its two protagonists: the Desperado (the one who gives everything) and the Emotional Black Hole (the one who takes everything).  Two characters who cannot exist without each other: co-dependency is a dance that involves two partners!
THE PASCALE PIQUET TRILOGY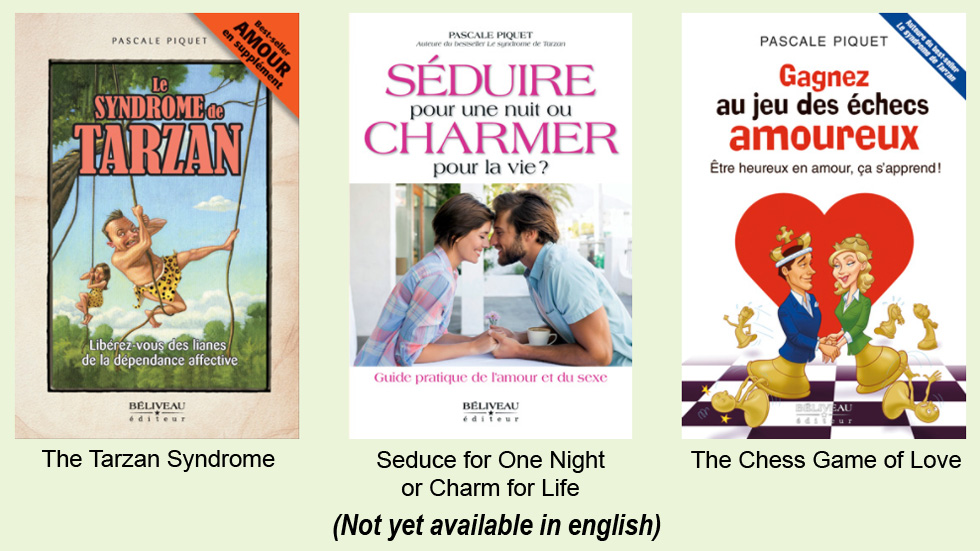 TESTIMONIALS
Read how Pascale's coaching has changed the lives of clients around the world.
Testimonials…